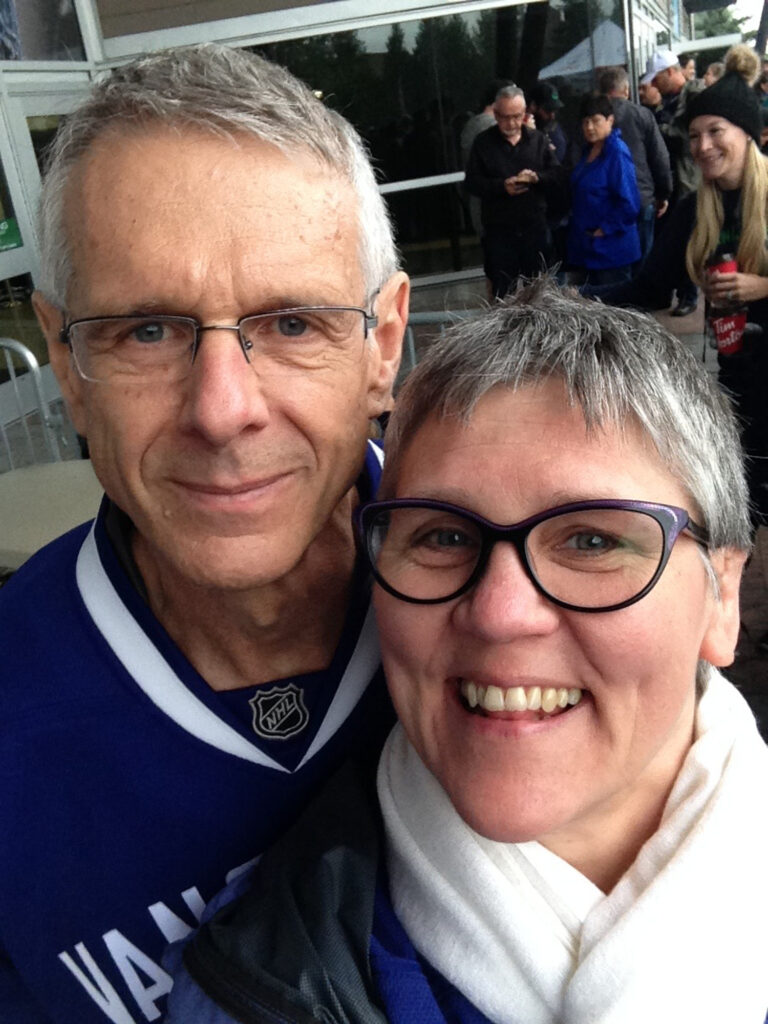 Hello!!
it's nice to meet you!
We are the wife/husband team of myself, Joanne Davenport and my husband, Peter Veillette. I am an experienced quilter and creative artisan and Peter, a former accountant, (don't hold that against him 😁) is a detail-oriented problem-solver and outside-the-box thinker. Together we form Remarkable Impressions Ltd. Longarm Quilting
We have worked together since 2001 and created a successful home-based wholesale business (SunsetStudios.ca) that makes hand crafted clay jewelry for distribution to retail gift shops across Canada. We have scaled back that business from full to part time, and now focus our efforts on longarm quilting.
I have wanted a longarm quilting machine for many years, however I was too busy with Sunset Studios to seriously consider getting one. In August 2018, a total stranger (thank you, Donna!) allowed me to use her longarm machine to complete a 52" square baby quilt for my 3rd grandchild. This was a game changer. I had been wrestling bundles of fabric through my domestic machine for 15 years, not to mention the difficulty of crawling around on the floor to pin baste the quilt sandwiches together. My next project was an oversized king "Gravity" quilt (see photo) for my brother and his bride. This is going to take days to quilt… who is going to let me use their machine for that long? Who has a frame big enough to accommodate it?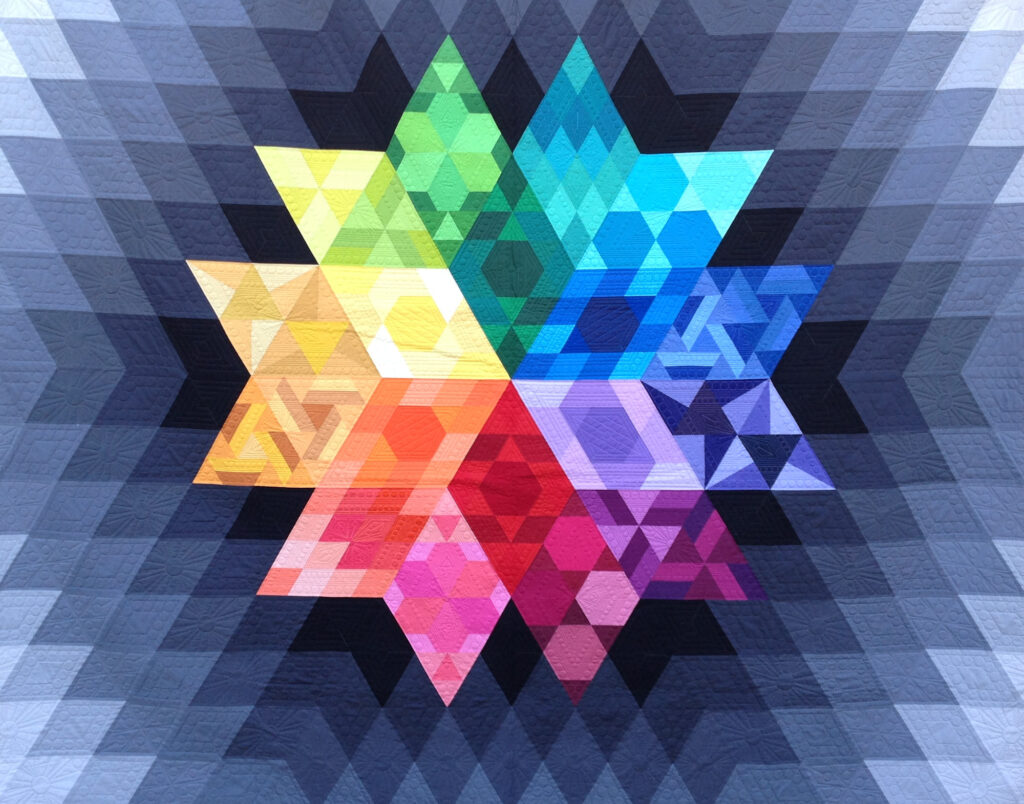 Solution – get my own machine! Peter's response was "yeah, you also want a potter's wheel, a loom and a spinning wheel. This too shall pass".
I have been the President of the Fraser Valley Needlearts Guild since 2009. I have a passion for a variety of artistic endeavours. I play the fiddle and ukulele, design cross stitch patterns, design and teach the little-known thread arts of tatting and hardanger, make custom bags, make stained glass, and dabble in watercolour and thread painting. Peter now proudly points to my most significant artistic accomplishment to date, a 46" x 35" reproduction of Pierrot's Embrace (see photo). He tells people, "Anybody with the skill, patience and dedication to invest 4000 hours, and complete 404,000 perfectly placed stitches, has my vote as a good partner to start a longarm quilting service".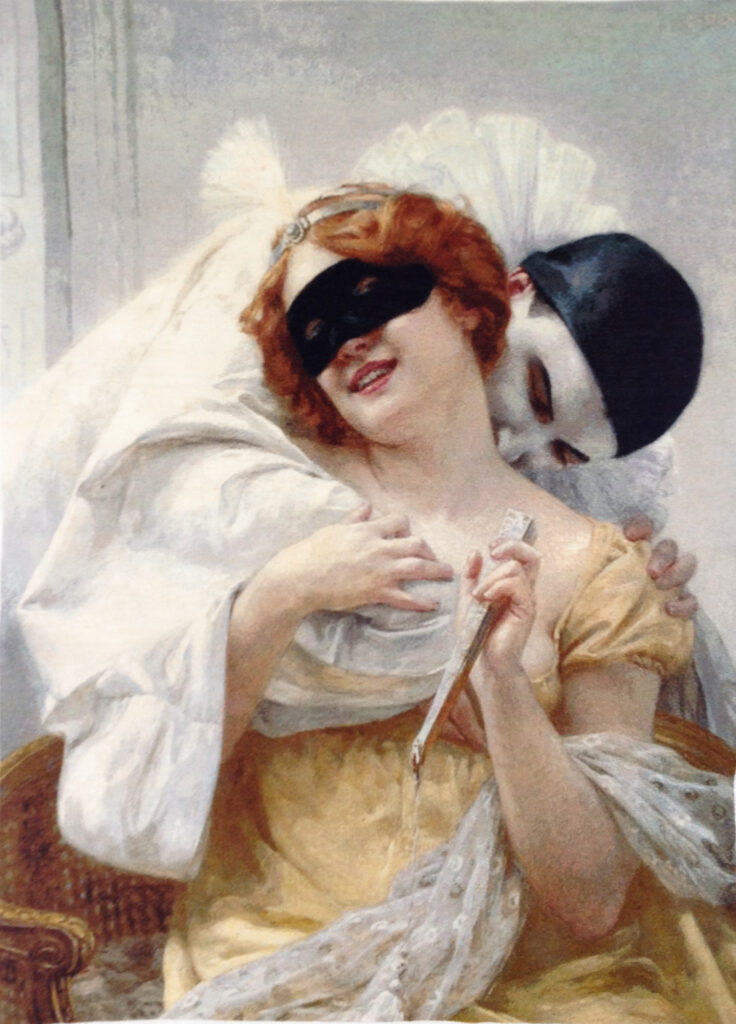 So here we are, with our 14 foot computerized Gammill Statler, affectionately named "Betty Boop"!
Peter owned a storefront rubber stamp and engraving business for 7 years. Every job was custom and 95% of the production was utilitarian. He remembers the most rewarding work being the artistic products he made. "I did a lot of computerized engraving for the construction trades. The first time I saw a Gammill longarm quilting in March 2019, I thought that is just like cutting a path in metal or plastic, except it is laying down thread. I can do that." he said. 5 months later a brand new Gammill was delivered. The Gammill, like the engraver, is a CNC (computer numeric controlled) machine and uses CAD (computer aided design) software. "This is technical equipment with powerful software and has the potential to create amazing quilts," he says. Peter may be a budding quilter just waiting to emerge.
Over the years, I developed advanced computer graphic skills and also did computerized engraving. "Computerized quilting" is a merger of these skills with artistic vision. Before our machine was delivered I was already creating digital quilting designs on the Gammill software that I am proud to use. Mastering the quilting software is an ongoing learning experience and Peter inspires me to push the boundaries with each quilt we complete. This is a lot of fun!
Quilts can be a wonderful collaboration between the piecer and the quilter. We know you have put your heart and soul into piecing your flimsy. For us, the best part of longarming is watching your face light up with joy when you see your finished quilt for the first time.
Let us help you create a Remarkable Impression by allowing us the privilege to longarm your quilt.